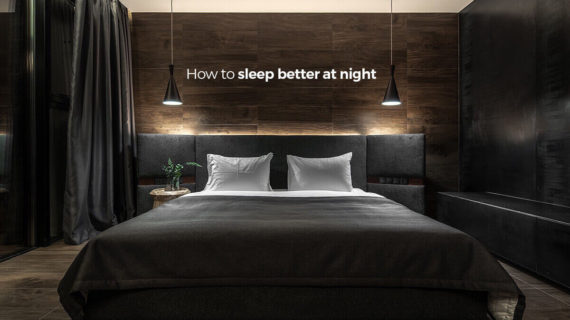 Designing a Bedroom That Makes You Sleepy
Do you find yourself tossing in bed at night, unable to pinpoint exactly what it is that's making you uncomfortable? There are probably many things that might cause that but we have found that the interior design of your bedroom can have great consequences on your ability to get sleep. A good night's sleep is the key to health. But sleeping well isn't only about getting to bed early. Here's a few suggestions on what you can do to make the inside of your bedroom calm the inside of your mind.
Dark Walls
Cool neutrals and soft pastels are a good choice for the bedroom because they're relaxing colors. Designing your bedroom for a better night's sleep is all about calming your nervous system. For a calming, sleep-inducing effect you can cover your walls with dark colored paint or wallpaper. Dark bedrooms designed to put you to sleep.
Small Screen
We all know that darkness is an important factor in sleeping and staying asleep. This includes eliminating clocks with lit displays and LEDs on electronics. A television in the bedroom is an age-old crisis, and for good reason. We highly advise keeping your television in a separate room in your home because nightly online binges keep you up much later than you should. The only thing you should be binging at night, are your dreams.
Blackout Windows
One option we highly advise for a good night's sleep is blackout shades. These insulating and room-darkening treatments block light to help you sleep. Beyond buying darkening window treatments, you can also simply look for curtains or shades that are very thick and dark in color, as they will naturally keep the light out. You can purchase readymade blackout curtains in many colors. Here's some options for you.
Moderate the Temperature
Your bedroom should always be cool rather than warm. Lower temperatures tell your body that it's time to sleep. Leave the window open a little to let fresh air in and provide good ventilation. Plants are an effective way to improve the quality of air in your bedroom. Add some easy to maintain succulents and perhaps some herbs as well. This will not only add some color to your room, but bring the outside in.
On colder nights we advise keeping a duvet or quilt at the foot of your bed. Consider installing a ceiling fan, the fan will create low level white noise which is conducive to sleep and it's much better for you than air conditioning. You can also try a cooler to cool you down on sticky, restless nights if you live in a warmer climate.
The Right Mattress
As obvious as it sounds your mattress and pillow are the most important things to get right. What one person finds pleasant and supportive, another may find too stiff or too soft. The ordinary mattress has a lifespan of 7 to 12 years, so if your mattress is 10 years or to old it may be time to change it. You should consider what material you prefer, how hard you like your mattress and the position you sleep in before you make any purchases. Here's a great resource to help you narrow down what kind of mattress is best for you. However, nothing is better than going in and trying out what you like best.
Bedsheets
When it comes to bedsheets, you should make sure they are inviting, in texture, color, material and thread count. There are plenty of affordable options on the market. Whatever you purchase, look for something long-lasting and breathable to help you sleep through the night. Dreams Furnishing Studio's linen bedsheets are breezy, breathable, and timeless, and it only